Get the #1 Shop Management Software Working for You!
Now Includes Time Management Tools!
Track employee shift hours and productivity statistics with a click of a button!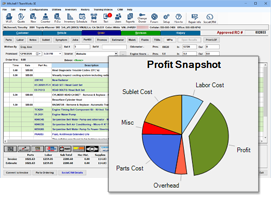 Manager™ SE is the industry's leading shop management software trusted by generations of shop owners to track and manage every aspect of their business. From estimate to invoice, Manager SE will help you streamline workflow and track shop activity so you can stay organized and on track with your business goals.
Estimating Integrated with ProDemand

One click puts our award-winning estimate guide right at your fingertips for faster, accurate —and more profitable— estimates.

Largest Selection of Parts Catalogs

Speed up your parts ordering process with instant access to the aftermarket's most comprehensive set of parts catalogs, including specialty parts and tires.

Shop Reports

Get full visibility into your shop's activity and performance with the widest array of business reports available in any shop management program. And access your most important reports online — anywhere, anytime!

Time Management Features

Automatically generate productivity statistics, based on Actual Clocked Hours versus Pay Hours, on assigned jobs to help improve technician efficiency and profits!

Repair Information, Too

Seamless integration with ProDemand gives your techs immediate access to both OEM and real-world repair information in a single lookup — an Exceptional Value!

Powerful Options

Unlock the full potential of your shop management system with options for digital vehicle inspection (DVI), accounting interface, text messaging, integrated payment processing, tools for Class 4-8 trucks - and more!
Request a FREE DEMO
Complete the form or call 800-275-4417 to get started – and for a limited time, GET 3 MONTHS FREE!*
* Limited Time Offer. Three months free applies to Manager SE and most Mitchell 1 products with a 27-month subscription. Your discount may vary depending on the product and term of subscription. Licensed auto repair businesses only. For full details, please complete the form or call 800-275-4417 option 1.
If you're looking for Technical Support or Customer Care, please call 888-724-6742.