Electrical Diagnosis Simplified
Charge up your auto repair shop with the industry's best wiring diagrams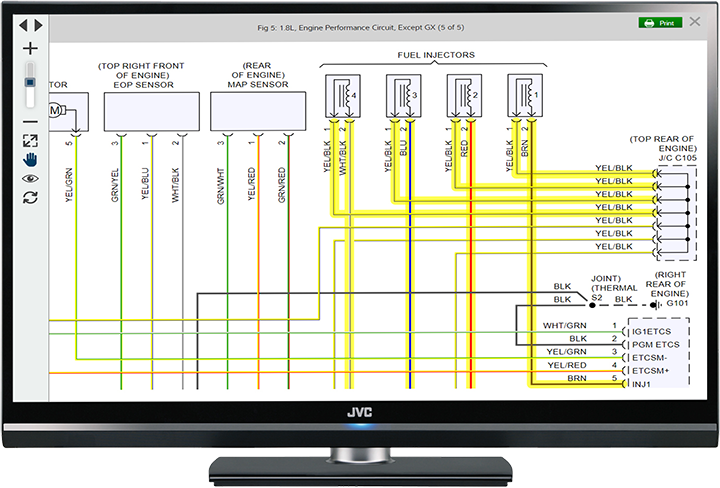 As electric and hybrid EVs rise in popularity, shops need to be prepared to remain successful. Mitchell 1 can help Electrify Your Business with ProDemand's Advanced Interactive Wiring Diagrams. The information you need to diagnose and repair complex electrical systems is just a click away.
Sound Interesting?
Simply complete the form to get started with a free demo of ProDemand – and for a limited time, GET 3 MONTHS FREE!*
Having accurate wiring diagrams is critical for the correct diagnosis of electrical circuits and components. ProDemand's advanced wiring diagrams provide the quickest path to success, enabling techs to get to the fix faster.

Interactivity connects diagrams to component information: Exclusive to Mitchell 1, our Interactive Wiring Diagrams let you navigate via the diagram directly to directly to information about a component, or even connectors, grounds and splices, without a secondary lookup.


Navigate to wiring diagrams for the component: Simply enter a component, click search, and you're there — at the diagram for the specific component you have entered as a search term.


C

omponent wires highlight automatically:

ProDemand not only takes you to the specific diagram, but when you open that diagram the component will be in focus with all the traces already highlighted.



Simplified viewing of complex diagrams

: Have a diagram with multiple pages? No problem — highlighting extends across all the pages until the circuit reaches its termination point.



Detail or big picture – you can have it all

: When you want to dive in deeper, hidden wires appear faded but do not disappear entirely. So you see the detail you need, but still have the big picture view of items included in the full diagram.
Request a FREE DEMO
Complete the form or call 888-490-3526 to get started – and for a limited time, GET 3 MONTHS FREE!*
*Limited Time Offer: Three months free applies to ProDemand and most Mitchell 1 products with a 27-month subscription. Your discount may vary depending on the product and term of subscription. Licensed auto repair businesses only. For full details, please complete the form or call 888-490-3526 Option 1.
If you're looking for Technical Support or Customer Care, please call 888-724-6742.